Alright, this is my first review on hosting services.
Please forgive me if insufficient details are provided and if I raged too much.
Benchmark: 
http://serverbear.com/benchmark/2013/07/01/xryRHv8YGsEuRtLE
I first met with Mano sales staff, he's a pretty cool guy working at Internap.
I talked to him and enjoyed the chat a lot, this gave me a pretty good impression of Internap.
I used it to host one Team Fortress 2 (inb4 tf2 is for casuals)
All the players on my server complained about lag and inconsistent ping.
I suspected it was because of the I/O since Internap had a good reputation for their network.
Later on, I benchmarked their public cloud and it was horrible.
Their "superior" network had terrible connection to overseas from Singapore. (Had around 400kb/s to Sydney.)
Their I/O was inconsistent (only displayed inconsistency once in the benchmark but on the server itself, I could feel it).
Copying data of 4GB took around 10 to 15 minutes, its really horrible, are they using SATA setup with RAID 1 on their SAN?
I contacted support team, they were slow in response which responded within 24 to 48 hours (top lel for their 24/7 sleeping support team) and only kept denying facts.
They told me "Benchmark numbers will be close to meaningless when it comes to real world applications."
Benchmark numbers cannot be fully relied on BUT what the hell are you saying about it being close to meaningless?
Its so incompetent.
I request for an escalation to the manager.
I told him, for network, I had 1 unstable ping of 8Ms difference within 3 pings, how is that not an issue?
On top of that, I did MTR over 300 Times and it had a high standard deviation of 12.
They told me "Apologies but there is nothing we can do to your concern right now, and we didn't see any packet loss based from your submitted trace route report.
We understand your sensitivity on the latency, but perhaps this not might be a suitable product for you, as long as we wanted to keep your business. Also, we're not insisting that our network is superior, it's just there is nothing for us to troubleshoot at this point."
What the hell? You want package losses on local network? Having SD of over 12 on local network is insane already and you want package losses?
Later, I further escalated this to NOC.
NOC replied "Our NOC advises that there are no problems in the traceroute. The RTTs to intermediate hops should be ignored, as routers on the Internet typically deprioritize ICMP packets directed at them. Since the latency to the final hop is fine, there is no problem."
Yeah yeah, but that doesn't explain the bloody slow connection (which are via TCP).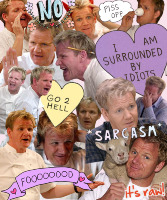 Oh gawd, I'm as mad as Gordon Ramsays.
Why the hell did I even approached Internap for their public cloud?
Their cloud is not cheap and network SHOULD be good.
I get this kind of lousy excuses from Internap, totally ruined.
A bloody LEB VPS with SSD to outrun their entire cloud.
Btw, if you looked carefully at the benchmark, they are actually using BULLDOZERS for their cloud, really smart eh?
Internap is the top troll provider.
Please advise me what to do next, I'm really pissed off. (If any providers are available in Singapore, feel free to approach me with an offer.)
Last edited by a moderator: