Hello all!
I do not post very often, but I thought this was worth sharing!
Not sure how many of you got the opportunity to visit the WorldHostingDays USA Convention this week, but it was a blast!
While at the show there were many vendors, but one that stood out and caught my attention was this new offering from NEC.
Meet the DX1000 Micro Modular Server: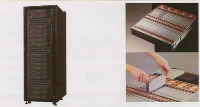 Download the full spec sheet
:
here
I honestly thought I had some picture of the modules from the conference on my phone, but seems I somehow deleted or misplaced them.  If I can find some better pics I will try to update later.  I am also going to try to get a better scan of the spec sheet, which I will just update in place when I get a second. I couldn't find a copy on their website at the time of writing.
More interesting though is this document on using these for OpenStack clusters
: 
here
The above guide also has some better pictures of the unit and shows the individual modules.
To be honest, I am not sure if this is 'Industry news' or not, but as I wasn't sure the best category for this, this seemed the most fitting.
Supposedly it is possible using these to fit up to 16 chassis or 736 servers in a single 42U rack, each chassis using only two
 1,600 Watt 80 PLUS Platinum certified hot plug power supplies for 46 servers (or drive storage modules).
Each server is an Intel Atom C2750 (2.4GHz/8-core/4MB Cache) or Intel Atom C2730 (1.7GHz/8-core/4 MB Cache) with:
Up to 32GB of DDR3-1600 ECC LV SO-DIMM memory

128GB-1TB mSATA SSD

1 x PCIe x8 Gen 2 slot

2 x 2.5GbE links to switch module

Embedded BMC with IPMI 2.0

2 x 40GbE OSPF+ uplinks

1 x 1000BASE-T for management

Can operate in temps 50-104F (10-40C)
Other interesting things about these chassis:
 You can also exchange a compute module for a drive module which fits additional 2.5Inch SATA 500GB or 1TB drives. 

Each compute module starts at $800.00 and you have to purchase a minimum of 16 compute modules with each chassis.

These start around 16K USD but at the cost per core there are pretty awesome chassis!
Can operate at higher ambient temperatures than standard server boards
With all this power in such a small amount of rack space one would think that these types of server setups will become more and more popular, as it allows you to run more servers in less space.  Also, with the low power consumption of these units and their high temperature tolerances it allows an even bigger savings as they don't require the same amount of cooling and power that you would need for standard setups.
What do you guys think, are these types of setups desirable? Would you use these in production (as a provider)?  Have you looked at any other similar server setups?
Look forward to hearing what you guys think!
Edit: modified my typo on the amount of servers that can fit in a single rack.
Cheers!
Last edited by a moderator: