New Member
Verified Provider
HostingAbove Technologies is a hosting firm offering managed solutions to consumer, medium and enterprise clientele on a global scale. We have been in business since 2010 and have a real passion in making your success ours, hosting hundreds of clients all over the globe. Our Superior. Reliable. Affordable. web hosting uses the Latest cPanel® & WHM® on all our managed servers. cPanel makes lifer easier for website owners, offering powerful tools to help you to perform essential tasks quickly, easily, and reliably.
FOR A LIMITED TIME, WE ARE OFFERING 50% RECURRING DISCOUNT ON ALL ANNUAL CPANEL SHARED WEB HOSTING PACKAGES USING THE PROMO CODE USING THE CODE "vpsboard50off" AT THE CHECKOUT FOR INSTANT SETUP!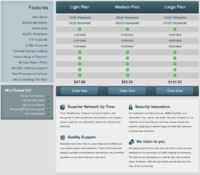 TO LEARN MORE AND ORDER PLEASE VISIT US HERE!
FREQUENTLY ASKED QUESTIONS?
--> HOW LONG HAVE YOU BEEN IN BUSINESS?
WE'VE BEEN IN BUSINESS SINCE 2010. WE OWN AND MANAGE OUR OWN HARDWARE.
--> CAN YOU TRANSFER MY WEBSITE?
YES, WE CERTAINLY CAN AT NO CHARGE! SIMPLY SUBMIT A TICKET ONCE YOUR ACCOUNT HAS BEEN SETUP WITH YOUR OLD HOST DETAILS AND WE WILL TAKE CARE OF THE REST.
--> IS THERE A CONTRACT WITH YOUR SERVICES?
NO. ABSOLUTELY NOT. WHY SHOULD WE TIE YOU INTO AN AGREEMENT WHEN WE STRIVE TO ENSURE YOU STAY WITH US REGARDLESS?
--> WHAT KIND OF HARDWARE DO YOU HOST YOUR CPANEL SERVERS ON?
ALL OUR SERVERS ARE DEDICATED MACHINES ALLOWING US TO PROVIDE THE ABSOLUTE BEST EXPERIENCE TO OUR CLIENTS. ALL NODES USE A MINIMUM OF 16GB OF RAM AND ARE DUAL (2X) QUAD CORES RUNNING RAID CONFIGURATIONS.
Superior Network Up
Time.
Tinet, TeliaSonera, Cogent, Hurricane Electric, Level 3 Communications and thousands of peering partners has allowed us to create a RELIABLE. SUPERIOR. AFFORDABLE. NETWORK to withstand all demands. 
Quality Support.
Available twenty four hours, seven days a week are certified and very skilled system administrators. Our teams are happily available to troubleshoot and answer any technical questions or concerns that you may have. Our average response is just under 15 minutes!
Security Innovation.
Our network is monitored by our staffed facilities on a twenty four hour, seven days a week basis. Abuse is isolated on our networks to ensure that our services remain robust and superior, keeping our clients happy to ensure for a completely managed solution.
We listen to you.
We always thank those who take the time to send us their feedback on our services, our staff, helping our company. The forums are devoted to our clients who wish to share ideas, feedback, with also giving the opportunity from the help of the community. Management is also available by e-mailing [email protected], we're happy to help!