Yesterday a local retrailer sold the A20-OLinuXino-LIME for €20 and I could not resist to get a replacement for my Raspberry Pi.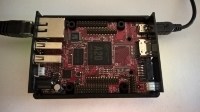 The essentail parts of the package:
Allwinner A20 dual core Cortex-A7 processor @1Ghz
Allwinner dual-core Mali 400 GPU
512MB DDR3 RAM memory
SATA connector with 5V SATA power jack
Capable of FullHD (1080p) video playback
HDMI connector
2 x USB High-speed host with power control and current limiter
USB-OTG with power control and current limiter
100MBit native Ethernet
LiPo Battery connector with battery-charging capabilities
160 GPIOs on four GPIO connectors
MicroSD card connector
DEBUG-UART connector for console debug with USB-SERIAL-CABLE-F
Looks like I found a cheap and capable replacement for my Raspberry Pi.
Main pros:
Dedicated GPU
Dedicated USB Hosts
Dedicated LAN (!!!)
Dedicated SATA
160 GPIOs (!!!)
Currently downloading the Debian image via Torrent. Community support is not as good as on the Raspberry Pi but found enough samples for cross compiling the kernel.
Still cautious how well Allwinner and Debian (not talking about FreeBSD :-( ) supports this board.
I will update this thread once everything is working.