Looks like with the launch of Fallout 4, big porno portal Pornohub just took one on the chin.
source: 
http://venturebeat.com/2015/11/13/pornhubs-traffic-dipped-significantly-the-day-fallout-4-came-out/
Pornhub

, one of the world's most popular adult video sites, told GamesBeat that it saw a 10 percent drop in traffic among gamers after Fallout 4 came out earlier this week. On November 10, traffic started to drop at around 5 a.m. after most people finished downloading and installing the game. That decrease from normal patterns continued until around 3 p.m. Gamers then seemed to disappear again beginning at 6 p.m.
How big is it?  Pornohub I mean, 66th most visited site online.
Guess you need two hands to play that?  Or does the post apocalyptic murder death kill thing just not mix well with trouser mouse time?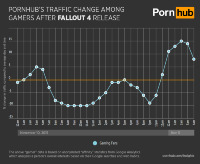 Last edited by a moderator: