High quality Videos are made by professionals. Videos with audio and text instructions guide viewers properly.
Now reduce your tickets and advertise your brand by displaying customized logo of your company in tutorials.
We have
73+ video tutorials
on latest version of cPanel, Mozilla Thunderbird, Outlook 2019, FileZilla etc.
If you wish to compete with bigger companies having lots of video tutorials for their customers then it is your chance to advertise and increase your presence by buying high quality video tutorials from DemoTiger.
You can see the demo of videos and then decide to buy.
1080p - Demo on How to restore backup in cPanel?
Another Demo Video
(More demo videos are available on our
website
)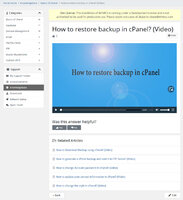 Our Videos use the cPanel Paper Lantern theme, which is used by many hosting providers.
You can upload the tutorials on various platforms such as YouTube, Vimeo, Twitter etc.,in few easy steps. We provide you with installation guide and help in upload and integration process.
Plans:
- cPanel - Basics of cPanel(26) + Databases(11) - 37 Videos
- Basics of cPanel(26) + Databases(11) + Domain Management(10) - 47 Videos
- cPanel - Basics of cPanel(26) + Domain Management(10) - 36 Videos
- All 73 Videos
- And many other plans.
Full Info & Order Link
Save time by purchasing our Latest DemoTiger Videos for your WHMCS and Blesta Billing System.
Supported Platforms/Billing Software:
- Support WHMCS v5 to v8.x
- Support Blesta "Support Manager" and "Support Manager Pro"
- WordPress
- HostBillApp
- SupportPal
- Video Embed code for adding it to non-supported platforms.
Video Categories:
Basics of cPanel (26 Videos)
Database(11 Videos)
Domain Management (10)
Email (5)
FTP (4)
Mozila Thunderbird (6)
Outlook 2019 (6)
FileZilla Client (5)
Available Modes:
Full HD (1080p)
HD (720p)
We sell series of videos at least possible rate.
Video tutorials for WHMCS/Blesta/HostBill/WordPress/SupportPal. Provide video embed code for displaying it on your blog, website etc., They are easy to integrate with your knowledgebase.
Starting Price: $160 (20% Discount).
Features?
- Videos are available in full HD(1080P) and HD(720P) quality in MP4 format. Different formats for other platforms are also made available on demand.
- Professional Video Tutorials.
- Easy Installation.
- Currently Available for WHMCS, Blesta, Hostbill, Wordpress, SupportPal and Video Embed Code for Blog/Websites.
- More video tutorials are coming soon.
- Flat 20% discount on every video series. Further price reduction on buying video series with more number of videos.
- Articles are reviewed by our Team for Errors and Grammar.
- Watermark Logo on images of your company/name.
- Free updates for up to 6 months.
- We will provide images with a watermark of your domain name or company name.