INIZ.COM
Verified Provider
We've been quite restrictive holding back giving clients more bandwidth due to potential abuse (outgoing) however we have made a decision to double ALL clients bandwidth.
As some of you may already know we offer a generous amount of bandwidth already and one of the very few hosts providing genuine unmetered free incoming bandwidth.  
We're looking to push even more network traffic on 2 x 10GE load balanced and active failover connectivity we have with NForce!!!  
And just for those wondering, I have attached the switches observium graph from past 24 hours
All current clients should receive an email shortly, all future orders will be manually edited and doubled as orders come through within 24 hours of order.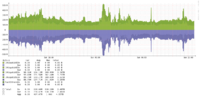 Last edited by a moderator: