I like the idea to have your basic pc in your poket. The Chromecast showed perfectly how well that HDMI/USB only combo can work.
But I need/want a Windows 10 system too. Android is still not able to cope with desktop usage (hey Pixel).
So Intel showed two new versions of the Compute sticks. One with a Core-M and one with a Atom-X5 core - suggested retail price of $159: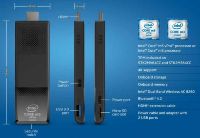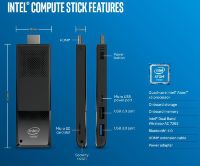 2 GB of RAM and 32 GB of internal storage. Core-M models with 4 GB of RAM and 64 GB of internal storage.
Two drawbacks of the Core-M models:
- Power adapter needed because they need 40W.
- $399 for the Core M3 version and $499 for the Core M5 version.
Way beyond anything I will buy for a mobile desktop. But the Atom versions looks promising.
Last edited by a moderator: