I know this has been brought up a few months back, but I'd just like to touch base on this again.
Basically, Avast detects a certain JS script/file of VPSBoard as a "Trojan Horse", and it gets really annoying. 
If I recall correctly, it has something to do with CNServers' DDoS-filtering (which BuyVM is using)? 
Usually when Avast pops up with this false-detection, VPSBoard will get a bit cranky and Chrome will sometimes show up with a "No data received" error page whenever go to the front page, reply to a post, PM, etc. 
I can sometimes avoid this if I disable Avast's "shields", though as a matter of fact, I had it disabled 10 minutes ago, and just a minute ago I had to re-write this entire post since after I clicked "Post New Topic" down below, I was given the same "No data received" on Chrome, which, after going back one page, all the typed-out stuff was gone! Ugh! This is starting to get annoying.
I got Avast a week ago, but I guess now I might need to find an alternative, again. Maybe directly listing that specific JS file as a "safe" file or something like so might solve it. But I'm not sure if it's possible since the files are server sided.
Happened again, this is my 2nd time trying to post this topic, luckily I copied the stuff I typed.
Avast was disabled too! It was taking me forever to edit this post to add a screenshot of the detection alert, since it kept on trying to save with that loading bar animation but never actually saved.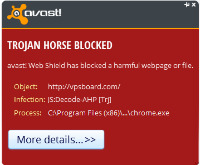 Last edited by a moderator: