Just a dude
vpsBoard Founder
Moderator
What are all of you running at home? I'm curious to see what sort of interesting setups some of you have running. My setup personally is pretty sloppy and nothing to brag about but will share it for the sake of getting this thread started.
I actually have plans to redo it all as I'm soon upgrading to fiber to my home whereas now I get internet via the landlord who lives next door, as well as starting to put a home server that is collecting dust to use, all of this will require a better setup at home for optimal performance. What I have now, although dated, sloppy and weak does what I need it to do
currently
without much fuss.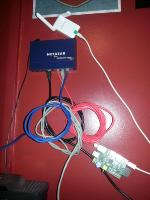 Old Netgear switch, TP-Link wifi USB adapter connected to workstation and that connection is bridged through the switch. I just put the RPI back into play a couple nights ago and will soon use it as my main bridge instead of my workstation since power consumption is so much less (That way my main workstation can be powered off and things like the xbox and DVR for IP cameras can still connect to the net) but for now the RPI is just being used for some tinkering with a bash project. Black to workstation, red to RPI, silver to DVR, blue to xbox and one unused slot for a 2U rackmount server that will eventually be used for something, probably use it as a safe learning environment for some new stuff.
So, it's sloppy. It's a bit embarrassing. But it is what it is. I know some of you have some nicer setups, some maybe sloppier, but regardless if you're running an at home RPI cluster for development, a garage server farm mining for bitcoins or just a couple old PCs it'd be interesting to see how it comes together.
Last edited by a moderator: