I am using Qualys SSL Labs 
https://www.ssllabs.com
 tests to check my ssl certificates and ssl configuration.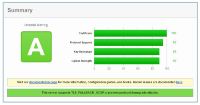 Rating looks good but I do have some questions regarding the "open items".
Chain issues: Contains anchor
Looks like the "AddTrust External CA Root" certificate is "sent by server" and is "In trust store" of the Browser.
Cannot imagine why this is an issue.
I always added the whole cert chain within the ca file - whithout any warnings.
IE 6 / XP No FS 1 No SNI 2 Protocol or cipher suite mismatch
As far as I know I have to enable insecure ciphers to support IE 6. So this cannot be an issue, or?
Java 6u45 No SNI 2 Client does not support DH parameters > 1024 bits
Same here - I am using 4096 bits dh.
Thats it.
Looking forward on the opinions on the three "open items" of the test result.
Thanks @Dylan - report is now fine.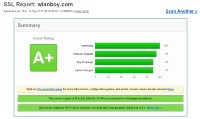 Last edited by a moderator: