Resin.io is a fork of the Yocto-based OS and is now able to run Docker containers on Linux IoT devices.
Resin known for their Linux/Javascript-based IoT framework forked their Linux OS behind the framework as an open source project over a year ago. The open source ResinOS is now publicly available on its own: 
https://github.com/resin-os
ResinOS can run on mostly ARM-based embedded Linux platforms including the Raspberry Pi, BeagleBone, and Odroid: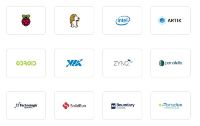 https://resinos.io/
The open source Linux CoreOS (
https://coreos.com/why/
), supports only x86-64, although attempts have been made to port it to the Raspberry Pi. There are other Docker-friendly Linux distributions like Red Hat based Project Atomic, but still no ARM support.
Snappy Ubuntu Core, which supports Docker on ARM and x86 embedded targets, but still on some major brands.
So ResinOS looks like a great new Linux distribution.