Do you own the license?
Yes
Is the license older than 90 days?
Yes
DId you purchase the license directly from WHMCS?
Yes
Type:
Owned License w/ Branding
Signup Date
: 22nd Aug 2012
Status:
Active
I am looking to sell my whmcs owned branded license (currently expired), as I am currently not using it. I am asking $100 for it ($20 transfer fee in the price). Permission to sell is already in place, you can reference ticket #YKT-347721 with them.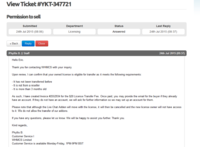 Last edited by a moderator: