Hi everyone!
Let us introduce
VMmanager 6
, a new control panel for KVM virtualization management. This product differs greatly from other similar solutions!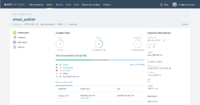 Modern web-interface. VMmanager is really user-friendly. You can find what you need and perform operations easily.
High load support. VMmanager suits the needs of large hosting providers because it enables them to run operations with hundreds of virtual machines. Try it now and take advantage of its features.
VPS creation speed. VMmanager creates a virtual machine within 1,5 minutes while similar solutions create them from 7 to 10 minutes.
Forecasting and statistics. VMmanager collects statistics from nodes and forecasts how many virtual machines can be created. The administrator has full information about its infrastructure.
The product has detailed
Documentation
and API for custom development. To automate service provisioning you can integrate the panel with WHMCS and BILLmanager.
https://www.ispsystem.com/software/vmmanager