Woohoo
Administrator
Verified Provider
We are proud to announce the vpsBoard keyword alert system for the forums has been officially launched. What does this mean?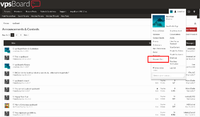 You can add keywords that will trigger an email to you when they're detected in a user's post. This could be beneficial to receive alerts if someone is posting about your brand, site, a common interest, etc.

The control is very granular. At this time you can
include multiple keywords
group keywords
exclude certain users from triggering alerts
include/exclude thread titles in matches
email and/or use integrated forum alert system
receive alerts immediately, daily, weekly, or monthly
receive alerts based on matches from only specific forums
You will not receive alerts based on your own posts. There would be no point in that
For the time being this is free to all members. In the future it may be reserved for a premium membership level.