There are many common festivals throughout the world, mostly religious, but there are specific ones too. So, let the community know the specialties of festivals in your location and share a few details about them.
Well, I am celebrating
Onam
with my family now and thought to share a bit about it. Here, at Kerala; on the southern part of India, we celebrate festivals related to all religions, and the major ones are Onam, Vishu, Christmas and Eid. There are many others too, but when asked to name a few, these will be the ones that comes to my mind, as during by school/college days, we get leaves for all these festivals.
Now, we are celebrating Onam here and today is the most important day of it. Its a harvest festival and is associated with the Floral Carpet, (made in all houses to welcome "Mahabali", who is believed to comes to visit his people once every year. The story is
here
.), "Onasadhya"; the feast, Pulikkali, Thiruvathirakkali and many other games.
Onam brings back my memories of childhood days, when I used to wake up early to pluck flowers to make the floral carpet, eat as much steamed bananas, 
pappadam
, banana chips and
sharkaraupperi
.
Sharing few photos:
The Floral Carpet or "Pookalam"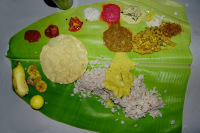 Onasadhya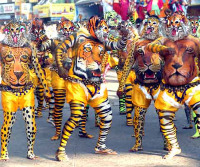 Pulikkali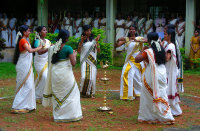 Thiruvathirakali
All images are from internet and I believe there is no copyright issues.
Last edited by a moderator: