Hey vpsBoard
,
So I'm working alongside a company at the moment who are trying to gauge what sort of interest there would be in this
plug & play VPN device
.
The process is fairly simple. You
plug the device into your router
using an ethernet cable,
and a power source
(can be powered via micro-USB), and then simply
connect your devices to the SSID of the plug & play device
, and you're good to go. Some small initial setup may be required, however it'd be extremely simple and wouldn't require any serious level of expertise.
This is aimed to be easy enough to be configured by non-technical users.
This is roughly what the device will look like: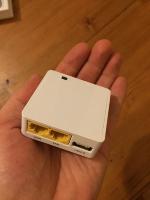 It's looking like the
pricing will be around the $70 mark
, which will
include one years worth of VPN service
. After this time, you'd have the choice of whether or not to renew your VPN service.
Is this something you'd be interested in? If so, are there any suggestions you'd like to be considered?
If you're not interested, is there anything specific that puts you off?
I'll hopefully have more news regarding this over the next couple of months.
Thanks,
Liam