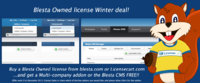 ​
Blesta and Licensecart are offering a winter sale until the end of December, this is where you can buy a Owned license from blesta.com or licensecart.com and get a free Addon company or a free BlestaCMS license.
The addon company allows you to add another company to your Blesta installation so you can have two brands on one installation, which makes life easier for you and your employees. Both companies are fully customisable and your customers won't know they are using the same installation as your other and when you are upgrading you only need to upgrade it once.
The BlestaCMS is a feature provided by Licensecart, it allows you to make Blesta your website, with a secure blog. No need for installing Blesta on a subdomain, no need to take clients elsewhere, no need for Wordpress and their attacks. Take your site and Blesta to the next level, like the License Manager provided by Blesta the BlestaCMS only needs one payment for lifetime updates and support, all comments on your blog are moderated, and you can accept and decline as you need.
The only downside at the moment for the BlestaCMS is our developer has gone full time at a company and has limited time to do the 1.2.0 for us, however when Licensecart grows bigger we will be hiring him full time which allows us to concentrate on the BlestaCMS and help our customers and blesta grow
. If you are looking for a theme we've integrated some popular ThemeForest themes into Blesta ready for you to purchase and upload. All pre-made themes have a version for our BlestaCMS: 
https://marketplace.blesta.com/#/extensions/categories/4-Themes
Videos
Multi-company: 
http://videos.blesta.com/video/65308950
BlestaCMS: 
http://screencast.com/t/PAcVeZ8QQ
 | 
http://screencast.com/t/81paso43vd
 | 
http://screencast.com/t/qXecVGKkox
Do you have a demo?
We sure do go to: licensedemo.com it reset's every hour so you can try out the blog licensedemo.com/blog/ and see the pages in action: licensedemo.com/terms
If you have any other questions about the WinterSale, Blesta or the BlestaCMS feel free to reply or email sales[-a-t-]licensecart.com
Last edited by a moderator: