The next PHP version 7.20 Alpha1 has been released
http://php.net/archive/2017.php#id2017-06-08-2
.
Long way to go before stable
http://wiki.php.net/todo/php72#timetable
but looking good from quick benchmarks I did while
adding multi PHP-FPM version support
via Remi SCL PHP-FPM Yum repo in my
Centmin Mod LEMP installer
at
https://community.centminmod.com/threads/php-7-2-0-alpha-1.11940/
Benchmarks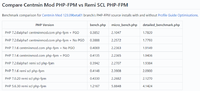 Wordpress 4.8 Benchmarks
Add some Wordpress 4.8.0 Blitz.io 1,000 user Virginia to OVH MC-32 BHS load testing benchmarks comparisons using Centmin Mod 123.09beta01's
centmin.sh menu option 22 Wordpress auto installer
but disabled all the default WP plugins that get installed with it and disabled all WP caching i.e. WP Super Cache, KeyCDN Cache Enabler and Redis Nginx level caching all disabled.