Hi VPS Boarder's
I have moved the Ransom IT Sydney services to a new upstream provider and established a presence with SoftLayer down in Melbourne. Plans have been simplified a bit as well with the same offerings available in Sydney and Adelaide for KVM services. Copied below is the announcement from 
the Ransom IT website
.
Let me know if you have any questions. I have one more unique location to add which I am hoping to get prepared before the end of the year which I suspect will be more exciting for many people here.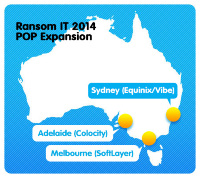 Sydney Network Upgrade
This has been an exciting month at Ransom IT. We have improved our Sydney services substantially by moving our equipment to the Vibe Communications network (
AS45177
). As a result network latency, performance and reliability will be substantially improved over our old upstream provider which will result in superior service for all customers in this location. Our 
Sydney Looking Glass
 can be used to test latency and network routes to and from the new network. Some benefits/highlights included are:
Direct connectivity in CoreSite at San Jose, resulting in improved latency to many US based networks
Direct connectivity in the London Internet Exchange (LINX) resulting in much reduced latency to European locations
Direct connectivity to the Auckland Peering Exchange resulting in improved connectivity to New Zealand based customers
Improved handling and reporting of DDoS incidents thanks to our providers in-house NSFOCUS powered mitigation platform
Improved network throughput and reliability to all locations thanks to a less congested and more reliable upstream network
Melbourne Expansion for OpenVZ services
A presence has been established in Melbourne for OpenVZ services only at this stage. We are utilising the new SoftLayer datacentre to offer OpenVZ services from the incredibly well connected SoftLayer network (
AS36351
). This location is particularly attractive for customers in the Asia region thanks to excellent connectivity on the SoftLayer network into Asia via Tokyo and Hong Kong. Our 
Melbourne Looking Glass
 can be used to test routes to and from the new network.
If you have any questions about our services or locations please feel free to 
contact us
.
Simplified KVM Plan Structure
To simplify services our KVM plans have been merged and we are now offering the same competitive KVM VPS plans in both Adelaide and Sydney.
To view our new range of VPS plans please 
visit our VPS plans
 page here.