Company Lube
Verified Provider
Hello everyone!
Our fearless ex-leader dropped me an email earlier tonight with this closing tid bit that he was OK with me sharing.
If what you've said is true, I'm quite surprised at the events and how quick Joel turned the site to ColoCrossing. It would be March last year when CC took over the hosting after extended DDoS? Sounds like I've passed the sites onto the wrong hands. Explicitly not wanting a corporation to take over and this happened.

It's good that a new site has been setup for the refugees. May the spirit lives on.
He did a write up on G+ confirming what I've been saying all along, that Joel didn't pay a dime for the site.
https://plus.google.com/103353758302156595150/posts/QTK9mn6qrks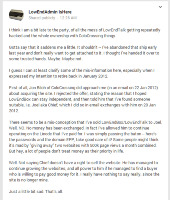 It's a good read and it's nice to hear from him.
He passes word that, thankfully, no dingos have eaten his babies.
/me tips hat
EDIT - Thanks Mun!
Francisco
Last edited by a moderator: