Hello guys,
we've been developing an application that you install on your cPanel server(s) and after that, you get a centralized place (example.your-hosting.com) where your hosting customers originating from these servers can login and use it to
email, chat, make audio/video calls, conferences, upload and share files
, in a modern way. Of course, all the data is hosted on their hosting account and within their account's limits.
Application can be
fully white labeled
and during the installation you can choose your own application name, icon (logo) and theme color, so it matches your brand.
After the installation, customers that have this application enabled in their hosting package feature list (WHM feature list) will see the application's shortcut in cPanel and also as an option when using Webmail.
Application is 100% custom made using latest technologies and following Google's Material Design standards. It features a web version (Chrome, Firefox, IE Edge), Android and iOS versions that can also be white labeled and published to Google Play and Apple Store.
It requires no changes to your cPanel server(s)
, meaning that you can continue using your existing mail server setup and everything else, like you are used to. It is a true plug and play solution. CentOS and CloudLinux are fully supported.
Here you can see the Email module of the application (blue color scheme, English language)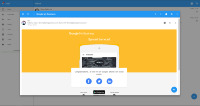 Chat module looks like this: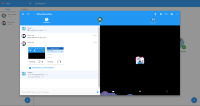 Files module: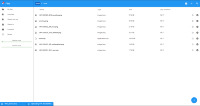 Settings: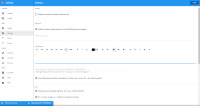 This image has been resized to fit in the page. Click to enlarge.
The application is currently running in a production mode for a few local hosting providers, in it's closed beta stage. If you want to participate, please contact me via PM. Those who get selected to participate will be granted a life-long 20% lower license price.
Here are some of the features that
Hosting Customers
loved so far:
Everything is happening in real time (you'll never need to hit the refresh button)
You'll never miss a thing thanks to full push notifications support for every platform (device)
You can multi-task. For example, you can open up several emails at the time, minimize them, open some files or do other things while keeping all other "activities" minimized for easy access via the "task bar"
Its modern. Looks and feels great to use
You can be logged into several accounts simultaneously (and use them at the same time)
You can set a reminder to remind you to answer that important email
You can upload and preview files directly within the application and share them with your team, or just keep it private
You can make calls and share files with people that don't have an account. You simply enter person's email address and they will get an email with a link that they can use to enter the call/conference or access shared files
It is a cross-platform application, meaning it works on Web, Android and iOS (desktop application is coming soon with support for Windows, Linux and Mac-OS)
You can attach something to your email from your "Files" or pick up one from your device
You can share files directly while chatting
You can create custom email filters and folders
You can easily import emails from some other IMAP server.
You can import/export your contacts
You can request email recipients to notify you when they read your email
You can create an email autoresponder, custom email templates and signatures
2FA support (Google Authenticator) for better user account security
Features that
Hosting Providers
loved so far:
One centralized place (one link) for all customers (doesn't matter on what server they are actually hosted)
Can be enabled for some hosting plans and disabled for others. Also, can be sold as a separate service
Easy plug and play installation (no changes to existing server software)
Full cPanel support (for example, when user creates email address, that email address is granted access to the application right away). And if the account gets suspended, the application will stop working for that customer
No changes in server resource consumption after the application is installed (application has very low memory, CPU and IO footprint)
Self hosted, meaning that data never leaves your servers
Supports all IMAP, SMTP servers
Can be installed in a master-slave fashion, meaning you can scale it with unlimited number of slave servers, where each server does processing related to that server and accounts hosted there (infinite horizontal scaling)
Admin area where you can manage all the servers and accounts, restart services, add more servers, etc...
Automatic self update (bug fixes and new features are applied automatically during the self update sequence)
Can be fully white labeled (hosting company can pick their own name for the application, logos, icons and color schemes)
White labeled version of the app can also be uploaded to Google Play and Apple Store by the Hosting Company itself
Providers can track what customers are doing in real time, using Google Analytics
All the users data is stored within their hosting account, and within their hosting plan's limits
Users stored and transferred data gets counted into disk and bandwidth usage quotas
Users can also continue using other software like Roundcube, Thunderbird, etc...
We didn't think too much about the pricing, but we know for sure that there will only be "unlimited accounts, per server, fixed, license fee". To help us decide, please participate in the
What would you pay for it?
poll.
Also, if you don't use cPanel, what other control panel would you like to see supported? What features you like the most and what you didn't like so much? Please share your opinion with us!
I can post some more screenshots and I'll be glad to answer any other questions you might have!
Best regards and thank you