For those who don't know what Diaspora is, its a decentralized social network, a collection of servers(pods) which runs the Disapora software (
https://github.com/diaspora/diaspora
), and communicates with one another using open standards.
What makes it special from other social networks is that its not owned by anyone and you can host your own pod if you like to keep your data.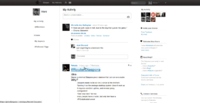 Diaspora is maintained by a community,
Diaspora Foundation
. It uses a handle similar to email(
[email protected]
) to identify users. Those who haven't joined, I welcome you all to the #Disapora community. Don't forget to add me when you are there. You can find my profile from the signature.
Apart from being a user, I also help in maintaining the diaspora pod poddery.com, which is run on a
KnightSwarm
VPS. 
List of active pods can be found at 
http://podupti.me/
. You can signup on any pods with registrations open. There is no such thing like real name policy to get an account.
A beginners guide by Diaspora user
Birch
:
http://earthandspirit.livejournal.com/38361.html