With the new Coding, Scripting and Programming forum I figured I would finally make a post about ServerStatus.
ServerStatus first originated from BlueVM's original Server Monitoring script and then me taking it a little bit further. I've both live memory and disk space levels, a styled web interface a long with a mobile interface.
The project is completely open source and available on github!
 I also had implemented it into LookingGlass in the
dev branch
, unfortunately it was added 4 months ago so I have no idea if it still works or not...
I've been neglecting it for the past few months but I've been receiving suggestions for new features as well as new interface. I've been hammering away at my computer and would like to say that version 3 is slowly underway and will feature hopefully many new features everyone may like.
I've seen a mix of both end users wanting to just keep an eye on their servers as well as server hosts using publicly or privately, so some of the features may appeal to others while to some not.
ServerStatus 3
New redesigned look
Server status history
Server Announcements
Up & Down Alerts + Emails too!
Server overview pages
Admin control panel
These features are not final and should they not work out may be cancelled.
Screenshots maybe?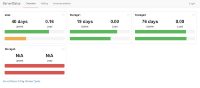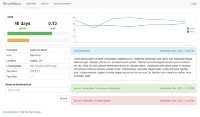 I'm curious to know how many of you use ServerStatus and how (personal, or server host public/private viewing).