I have an OpenVZ unmanaged VPS. Installed the control panel, LAMP stack, have the DNS and domains on the new nameservers(showing up if you go to the domains) But when i run a pingdom check i have an SOA error. Was reading that it is probably a reverse DNS issue...
This is the responses I ended up getting:
You will need to simply login to SolusVM, click the network tab and hit edit next to the IPs to assign it. However, please note that you must already have a matching forward (A,CNAME,AAAA, etc) record to be able to set one.
As we are an unmanaged host we cannot explain to you how DNS works, however, in my previous reply, I've instructed you on how to set your rDNS so that it should fix your issue. If you need more hands on help then you might want to join our community IRC channel and see if someone there's able to and willing to assist you.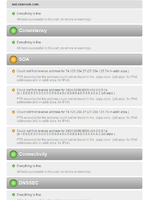 What do i do here?