This started all because I requested a refund and I explained why I was wanting one.
I'm going to preface this by saying
1. I am well-aware that on sites like VPSboard, BuyVM is quite popular and what not so I don't expect impartial responses and I expect some negative responses but I am really not looking to argue. Just sharing my opinion/experience.
2. These issues stem from miscommunication/lack of communication and poor handling of the situation by management.
3. I let my anger get the best of me and I should've handled it better but I was completely caught off guard by rudeness but I am a bit embarrassed I got as pissed as I did.
PLUS:
From Aldyric(basically making excuses for Francisco's behavior):
"I have to admit I find the opinion difference between myself and Francisco confounding - as the person that deals with our policy violations and billing issues, _I_ am typically the one that people dislike. Francisco will give you the shirt off his back if it were his last, so if he were actually irate, then there was a very good reason for him to be so."
There is no reason for a professional company to catch an attitude, blame the customer or be condescending.
Here is what I sent them in the ticket...wasn't rude at all:
Hi Buyvm,

I am going to go ahead and cancel my account. I want to know if it was possible to get my full payment back. I know it is per your TOS that you do not refund the Cpanel license back to a customer but I hope after reading you guys will consider.

I am really disappointed tbh....I was expecting a lot based on the amazing reviews I've seen not to mention, while I don't agree always,. I enjoy the comments of Aldyric and Francisco on Vpsboard and other related sites. You don't see 'real' people with hosts...usually it is a façade and they are pretending to be perfect.

That being said, it has been nearly 12 hours since I've signed up and nearly 24 hours since I've been in correspondence and I am not feeling happy enough with the service and it is day 1.

1. I spoke with Aldyric last night and he sort of disappeared on me when I was waiting my order to be done....I rationalized and said "well it was after hours."

Francisco told me it was because I signed up with an email that was unverified paypal or something and that delayed my order. I am not sure how that is possible but that was okay because it got set up.

2. After speaking with Aldyric(who was a great help), I was told that I would have to wait for Francisco to do the litespeed installation and the ticket was put on hold.

I wasn't sure if I should respond back because I still needed my site migrated over and I didn't want to mess anything up. I was later told Aldyric wanted to allow Francisco to do it as he wasn't that experienced with litespeed.....Okay I understand that and I don't mind him doing that. And he did actually eventually do it for me...

But the response of Francisco being in a couple of hours sort of didn't sit right by me.

3. What bothered me now is the fact that I sort of went through the trouble of trying to get my backup onto the server and I was expecting the migration to be done.....it wasn't.

Francisco went to lunch and I expected that might take an hour...I believe it has been nearly 4 hours and I've still heard NOTHING back from you guys about that.

Not a good start and I didn't want to complain but it is like "Wow...."

So I am going to cancel and I just wanted to know could I please get my full $23 back I paid?

Thank you so much and I am sorry it didn't work out as I really wanted to use BuyVm and see the awesomeness I've heard about
************************************************
Wasn't rude at all. I made sure to be polite even though I was annoyed. So I then logged onto the sales chat to see if someone was on hoping they could get my ticket and this is the trouble started.....
Notice I was not rude or disrespectful at all. Notice who caught the attitude first because of my ticket(above).
4 hours earlier, Francisco claimed that he was going to go get lunch but he wanted to know how long the upload was going to take. He then proceed to say "I'll go somewhere close" and be back soon....However notice below, how he then turns around and tells a lie....thus blaming me despite the fact he told me he was going to lunch.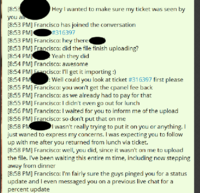 The "Owner" claims the refund policy isn't 7 days....despite me being told there was a refund period. I guess
he doesn't know his own policies
(I had asked Aldyric hours before about refunds...here is his response)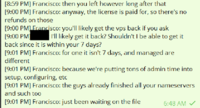 Asking the 'Owner' about my refund...watch him basically give no fucks and make excuses.....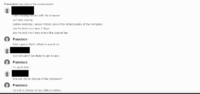 The "Owner" has no control over business matters....he gave that up a long time ago.....Apparently if he were to step up and do something, a turf war would start.
I guess we're in gangs now or something? Why would their be a turf war in your own company?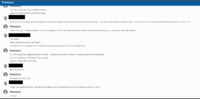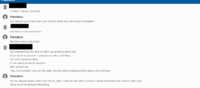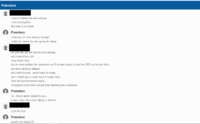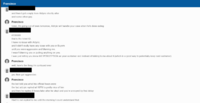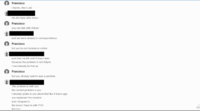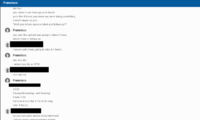 Notice how he claims that he can see how long it supposedly was going to take(Despite it taking nowhere near his claims) but he then claims "How he was supposed to know it completed?" Didn't you just say you knew how long it would take?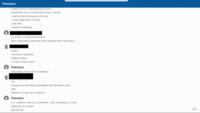 He claims he reached out to me in chat....but he acknowledged that I left...which means I probably didn't see the message. So why would you not open a ticket with your customer to make sure that they got the info that you claimed you sent? That's like me posting something in our chatroom just because Frank's name says online and then he leaves....I shouldn't assume Frank saw it if he didn't respond.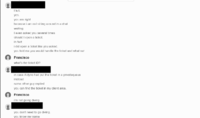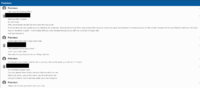 ‌
Last edited by a moderator: