Have any of you ever wondered what goes on during construction and buildout in a datacenter? 
Follow us on facebook as we'll be posting frequent updates with the expansion activities here at our 34 Peachtree ATL01 site that includes the build out of a new 500kw power system, deployment of Liebert CRV In-Row cooling and Cold-Isle containment systems in the new area as well as retrofit into our existing deployments. 
For some of you these may be things you rarely get visibility into, feel free to ask questions
https://www.facebook.com/ColoAt
I have linked individual dates in this main post to the follow-up replies with the updates and pictures for easy 'jumping'
Of course our lobby sign! Nice cool white backlit LEDs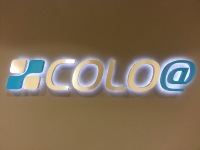 08/20/2013
Today we have fuel oil piping going in for our fuel risers from the existing fuel system to the new 500KW generator being installed on our 2nd floor as well as delivery of the first batch of new Liebert 42U secured cabinets.  
08/21/2013 
A ton of materials have arrived, pipe bending equipment to bend the 4" conduit for power runs, fuel-oil piping being installed and just a few pictures of the generator replacement that was previously done as well as 2 pictures of our overhead busway that is used in all our power deployments that allows flexible circuit delivery to cabinets form 10A 120v to 30A 3-Phase.
Last edited by a moderator: