Spamhaus blacklisted over 131K ColoCrossing IPs this weekend for repeat offenses and
Ernie Quick
of Hudson Valley Host and Jon Biloh of ColoCrossing are trying to use the blacklisting as an opportunity to squeeze more money from customers for a $10 mail service add-on.  TL;DR Ernie just earned himself the title of unethical piece of lowlife shit for this attempt to squeeze more money from customers for something (ColoCrossing's long history of being a spam friendly host who rnts servers to criminals and spammers) that was not their fault.
Customers opens a ticket about their IPs being blacklisted and this is the response they get:
Quote said:

Hello ******,

Thank you for contacting Hudson Valley Host support. We understand you are having issues sending email due to the IPs being blacklisted. Hudson Valley Host has teamed up with MailChannels to offer high availability SMTP relay service. For only $10/ we can integrate MailChannels SMTP relay service with your WHM. All email will securely go through our MailChannels partner account ensuring the emails are received by the end user. MailChannels SMTP relay service also includes a powerful outbound spam filter.

You can read more about MailChannels SMTP relay service here:

http://billing.hudsonvalleyhost.com/knowledgebase/10081/MailChannels-SMTP-Relay-Addon.html

Shall we go ahead and invoice you the $10.00 and add this to your server?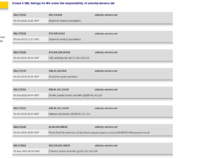 Note to f*cktards Ernie Quick and Jon Biloh: FTC regulations require that your advertisements accurately describe the product that you're selling which means you need to mention in your ads that the product you're selling comes with blacklisted IP addresses...  You clowns should be offering the MailChannels relay service to customers for free as compensation for your inability to keep your IP space clean.
TL;DR for buyers: don't pay these f*ckwads $10 for something that is entirely their fault, demand a refund because the product you received wasn't as described in the advertisements.  
Last edited by a moderator: